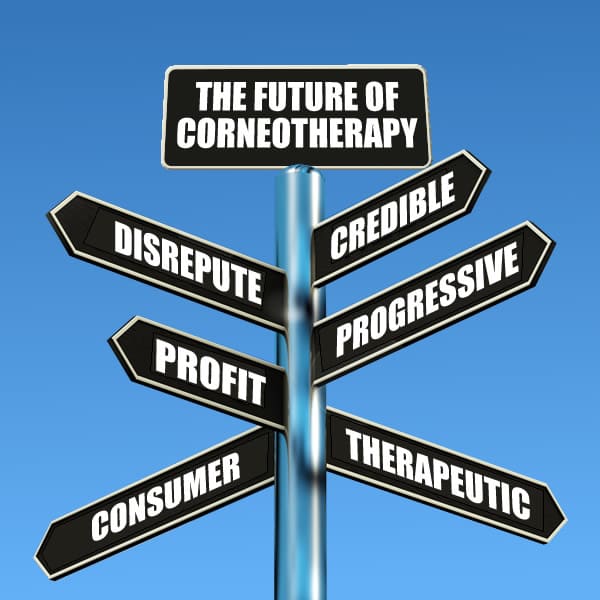 Ever since Professor Albert M. Kligman defined corneotherapy, the methodology has been advanced and refined(1). As with many progressive concepts however, the term has now reached the field of conventional cosmetics, and the use of the idiom "corneotherapy" has now been exploited for sales promotions in order to offer conventional approaches with more progressive and exciting labels.
One of the most recent marketing gimmicks was the term nano(2,3) used in various ways by countless copycats until restrictions and requirements on the part of the legislators were impending. Curiously enough, the term nanotechnology all of a sudden disappeared from cosmetic products. Brochures and labels changed, although product compositions have remained the same as before the nano-hype. 
I.A.C.
Developments of this kind are unfortunate since they show that the main objective is to deceive consumers and misuse milestones of technology and scientific findings for commercial gain. 
With regard to corneotherapy, it is time to strike a balance and establish a formal criteria in order to help inform consumers how they can distinguish between serious product policy and marketing gimmicks. 
The International Association for Applied Corneotherapy (I.A.C.) has taken up this cause.  The I.A.C. promotes the further development of corneotherapy against a scientific background and conveys the findings to the non-scientific world. The I.A.C. website presents a large variety of publications on corneotherapy and its environment(4).  
Therapy
First of all, it should be mentioned that for the first time ever, the term "therapy" has been used in the context of skin care. In the majority of countries, the term therapy is used in a medical context. And, considering the work of Professor Kligman and his colleagues, it is quite evident that they have medical significance. 
Kligman (at el.) compared different therapies in terms of their medical indications by contrasting the effects of pharmaceutical active agents with non-pharmaceutical substances. Clinically significant results proved that in the treatment of neurodermatitis, the targeted restoration of the skin barrier (stratum corneum) plays a similar role as the administration of anti-inflammatory glucosteroids. 
The compound term "corneotherapy" was a result from these findings. 
At a symposium on corneotherapy at Zagreb in the Autumn of 2013 (5), Professor Philippe Masson, a scientific expert on environmental and health issues at the EU made a statement about the issue. 
This was the essence of what he said: "You may rest assured that a broad expansion of corneotherapeutic treatments and an increasing participation of non-medical circles such as cosmetic manufacturers and cosmetic institutes will entail the explicit limitation of corneotherapy to the health care sector".
Dermatological cosmetics
Similar discussions have been ongoing concerning the term of "dermatological cosmetics", which is the semantic conjunction of dermatology and cosmetics. 
In this case, there is nothing to object to cosmetics developed in accordance with dermatological criteria and in compliance with the state-of-the-art medical science. 
In this context, several criteria have been mentioned among others that apply for dermatological cosmetics(6). And so the circle is complete with regard to corneotherapy, since dermatologist Kligman selected cosmetic substances in accordance with dermatological criteria, carried out studies and finally established clinically significant results. 
It can be stated as a fact: The basis of  true corneotherapy has to be dermatological cosmetics. 
Corneotherapy is the medically funded treatment with dermatological cosmetics administered by medical staff. As a matter of fact, dermatological cosmetics can also be applied in cosmetic institutes and by consumers since we still deal with cosmetics, although in the particular case of problem skin it has more impact than conventional skin care that frequently is counterproductive in this context(7).  
True dermatological cosmetics according to corneotherapeutic principles can be characterized as follows: 
Compositions
Abstain from active agent cocktails with a multitude of components that ultimately only serve for sales promotion purposes. They are usually counterproductive. 

Minimum of auxiliary additives only.

Abstain from additives requiring further additives: examples are polyethylene glycols (PEG) and their derivatives that are used as emulsifiers or consistency agents and need to be stabilized with antioxidants. 

Free from emulsifiers that cannot be degraded in the skin. They cause a wash-out of natural protective substances of the skin during skin cleansing. Exceptions are rinse-off products such as skin cleansing products. 

Free from emulsifiers that are incompatible with the skin barrier or do not correspond to the physiology of the skin. 

Free from surface-active substances that feel pleasant on the skin despite of a disordered skin barrier. Example: representatives of re-fattening substances in skin cleansing products (PEGs, silicones). 

Free from occlusive substances, unless occlusivity is explicitly required because of dermatological viewpoints. Occlusion leads to skin swellings and a reduced recoverability of the skin. Example: Vaseline. 

Free from preservatives with allergenic potential – see appendices of the cosmetics directives. Example: Methyl(chloro)isothiazolinone. Also abstain from alternative preservatives with known allergenic potential. 

Free from ingredients with suspected endocrine adverse effects from the substance classes of sun protection filters, preservatives or denaturing agents. Example: Diethyl phthalate. 

Free from ingredients that interfere with the experience of pain of the skin. Example: Laureth-9. 

Abstain from perfumes in skin care products. Perfumes contain allergenic components or can form these components through sun radiation and atmospheric oxygen. This also applies for essential oils unless added for perfume reasons and unless required by specific indications. 

Free from strong chelating agents that inhibit physiological trace elements in the skin and are persistent. Example: EDTA 
Marketing and advice
No recommendation of physical, chemical or medical skin treatments that affect the recoverability of the skin after reapplications or cause irreversible adverse effects. Example: Regular chemical peelings. 

Recommendation to use a minimum of products for the skin care. 

No sales promotions focusing on compositions or treatments that objectively are not needed or overstrain the skin on the long term. Example: Daily bathing of babies using strong surfactant compounds. 

No product descriptions that do not conform to the actual physical, chemical and other properties of the products. Example: Emphasizing liposomes with the use of phosphatidylcholine (INCI: lecithin) in surfactant-containing skin care products, where they cannot exist. 
Preparations and treatments
Corneotherapeutic cream bases are characterized by the feature that they can be formulated with both pharmaceutical and cosmetic active agents. There are also formulations that correspond to the particular requirements of country-specific pharmacopoeias. 
In practice we see that every skin has its individual needs. That is the reason why corneotherapeutic preparations usually consist of one or very few active agents that are focussed on a certain indication. After a skin analysis and anamnesis, the appropriate preparations for the diagnosed indication are individually combined. 
In its irregular newsletter, I.A.C. will address any misuse of the term "corneotherapy".  To maintain the integrity of the organisation, only companies that follow the criteria of dermatological cosmetics in their trade, marketing and counselling are sanctioned to become sponsors of the I.A.C. 
An important field of activity of the I.A.C. is the long term skin protection through dermatological cosmetics in the occupational field. 
FAQs
A frequent question is, whether natural cosmetics can be used for corneotherapeutic purposes.
The answer is simple: the above mentioned criteria also apply for natural cosmetics. Natural cosmetics containing natural preservatives with allergenic potential similar to the synthetic representatives for instance are inappropriate for corneotherapeutic purposes. By contrast, natural components of dermatological cosmetics such as shea butter and phospholipids for instance are required. Physiological compatibility is an important criterion, though. 
The attribute "dermatologically tested" is no indication for dermatological cosmetics. It only means that the preparations have been examined by a dermatologist. The attribute does not allow any conclusions regarding inspection criteria and results. 
Future prospects
Similar to the development of lamellar skin care preparations in the 1980's (8), the marketing of the cosmetic industry hypes up the term corneotherapy today. Historically, it has been shown that after about 5 years serious future trends will remain and advance. After about 30-40 years, the significance of the field of lamellar products has been finally realized today(9).
It will however take some time until corneotherapy catches on since its objectives, seen from the economic point of view, do not necessarily correspond with the pursuit of profit of the cosmetic industry.
HL 
References:
1.  H. Lautenschläger, Geschichte und aktuelle Gesichtspunkte der Korneotherapie, Kosmetische Medizin 26 (2), 58-60 (2005)
2. H. Lautenschläger, Nanoparticles - sizing up skincare, Professional Beauty (Australia) 2011 (2), 200-201
3. H. Lautenschläger, Nanopartikel in Kosmetika - Gut oder schlecht? Beauty Forum 2009 (5), 44-47
4. www.corneotherapy.org
5. Philippe Masson, Proliferations of nanomaterials and nanotechnologies: which incidence for the environment and health - benefits and risks, 1st European
    Interdisciplinary Scientific Symposium on Epidermal Corneotherapy, Zagreb, 19.10.2013
6. H. Lautenschläger, Dermatologische Kosmetik – Brücke zwischen Kosmetik und Medizin, Kosmetische Praxis 2005 (5), 12-14
7. E. Kownatzki, Gesundheitsschädliche Wirkungen von Kosmetika, Kosmetische Medizin 21 (1), 26-27 (2000)
8. H. Lautenschläger und J. Röding, Kosmetische Formulierungen mit Phospholipiden und Liposomen - Umfeld und Zusammenhänge (Teil 2), Parfümerie und
    Kosmetik 71 (1), 18-21 (1990)
9. H. Lautenschläger, Biodegradable lamellar systems in skin care, skin protection and dermatology, SOFW-Journal 139 (8), 2-8 (2013)