The 4th Symposium on Corneotherapy 2016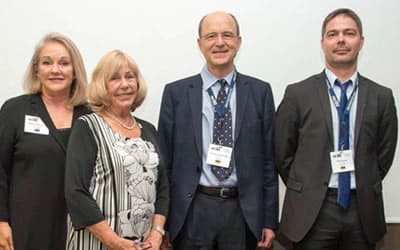 This year's symposium had the theme Adjunct Corneotherapy and so the presentations covered many interesting topics.
This 4th Symposium on Corneotherapy held over the weekend of the 6th-8th May 2016 in Cologne, Germany was an outstanding success, bringing attendees from across the globe to hear a roster of top speakers discuss all things Corneotherapy.
 

The I.A.C. board (from left) Margaret Walsh-Shearer, (Secretary) Florence Barrett-Hill, (Madame Chair) Hans Lautenschläger, (Vice Chair) and Marek Harder. (Treasurer) 
At the reception dinner on the evening before the symposium, the group welcomed both our new and existing members to the event. Many had not seen each other since the last event in Taiwan in 2014 and it was great to see associates and friends reacquaint themselves. A lovely meal followed and we were treated to musical entertainment by a string and piano trio.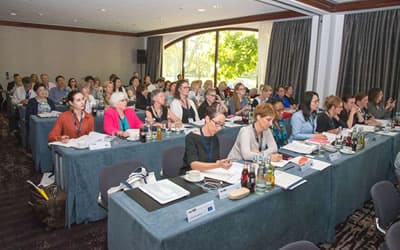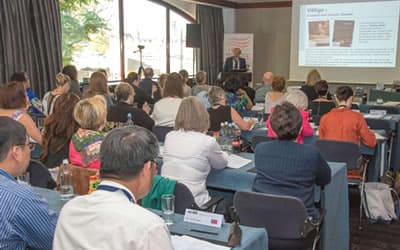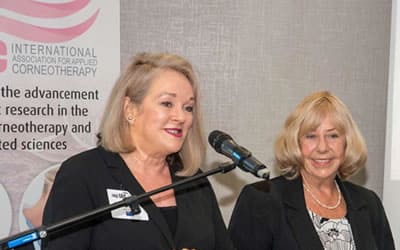 The following morning we gathered in the auditorium for the morning session. After the opening addresses by Madame Chair Florence Barrett-Hill, Vice Chair, Dr Hans Lautenschläger, and Secretary Margaret Walsh-Shearer, the event first speaker took the podium.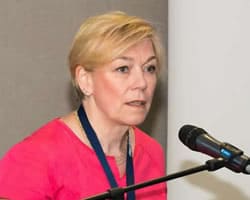 Dr Ghita Lanzendörfer-Yu, PhD began the proceedings with a informative and entertaining presentation on the changes in both the understanding of the skin and the ingredients in skin care products over the last 150 years.
Dr Lanzendörfer-Yu took the audience on a journey through from the earliest occlusive formulations through the understanding of the skin barrier and bilayers, and on to skin biotypes and the future of skin care.
We were taken on a review of the composition of NMF and the skin barrier lipids, reinforcing the role of ceramides and how their absence can be correlated to pathogenic skin conditions.
We also learned about the genetic and pathogenic factors associated with atopic dermatitis and psoriasis.
Dr Lanzendörfer-Yu concluded with a very valid statement; with what we know about the skin microbiome serving as the first barrier of our skin, and what we understand about where dietary or bacterial metabolites intersect with the immune system, both our skin cleaning/caring routines and quality of food intake should be questioned in future. There were many questions from attendees, and this capped off a truly engaging and compelling presentation to kick start the symposium.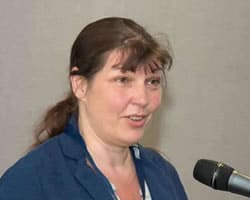 Our next speaker was Christiane Uhl , a skin diagnostic device expert from local Cologne based Courage & Khazaka, a world leader in skin diagnostic equipment.
Christiane began with why the modern skin treatment therapist needs to have detailed knowledge about skin types and influences on skin conditions to be used in conjunction with a detailed consultation procedure, ideally using some form of skin diagnostic devices.
Christiane explained the industry standard measurement techniques used in skin diagnostic procedures for ascertaining skin health and condition, and the various technologies employed.
We learned about the importance of ascertaining skin moisture and sebum levels, and the health of the acid mantle along with determining skin's biological age by examining skin elasticity.
We also learned about special cameras used to determine degrees of hyper pigmentation and rosacea.
Christiane concluded with a overview of the software used in conjunction with the various measuring technologies to obtain a record of the skin's health at a particular time, and documenting any improvements while using the data for comparative studies.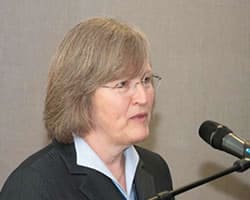 After a short break, the board welcomed Professor Christel Muller from the Technical University of Braunschweig, Germany, to the podium. Prof Muller's topic was about Saponins. Not simply about their use in skin care, but a enlightening education about their uses and properties far beyond their more commonly understood detergent-like properties; from antioxidant to drug delivery systems.
Prof Muller began by explaining what saponins are, their various sources and their properties.
We learned about their pharmacological and immunological effects including wound healing, antiviral, antimicrobial and antifungal activity, as well as the anti-inflammatory properties of some types.
Dr Muller concluded by telling us about the promising activity of some saponins anticancer activity, and their effects for the development of adjuvant vaccines. A truly eye-opening and informative presentation.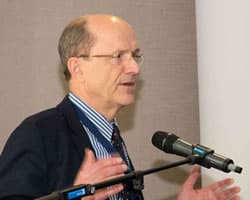 The I.A.C.'s own resident organic chemist, Dr Hans Lautenschläger, PhD was next.
Dr Lautenschläger's topic was a subject he knows well; Nanodispersions. (Also known as Nanosuspensions, nanoemulsions, microemulsions, liposome's and vesicles) Dr Lautenschläger began with an overview of the efficiency of nanodispersions when compared to pharmaceutical active agents, and consequently their ideal role as a base for cosmeceuticals. We learned how the use of nanodispersions opens a whole new way of applying skin care formulations with greater efficiency and comfort, and the fact a majority can be biodegradable. He explained how nanodispersions are the perfect choice for some individually tailored skin preparations.
Dr Lautenschläger also addressed the perceived negative aspects; that of systemic toxicity of non-degradable nanoparticles. He did point out that regardless of their biodegradability, nanodispersions offer high bioavailability at low doses of active agents with an irritation threshold lower than for conventional emulsions. 
We learned that nanodispersions allow a reduction or even elimination of additives such as emulsifiers, spreading substances and penetration enhancers, making formulation much simpler, less prone to irritation and rise to the "wash out" effect. Another important factor we learned that because the nanodispersions are produced in sterile forms, the reliance on preservatives is reduced or eliminated.
Finally, Dr Lautenschläger reviewed examples of active agents used on a variety of skin conditions, their nanodispersion type and action. An interesting and informative presentation.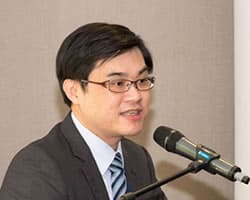 Our last presenter before lunch was Professor Chia-Yu Chu, MD,PhD from the National Taiwan University Hospital. Prof Chu was a previous presenter at the 3rd Symposium, and his topic was the use of DMS base cream with fluticasone propionate (FP) as a treatment for atopic dermatitis.
Prof Chu began with an overview of the disorder, and the established treatment solutions being topical corticosteroids of different strength, focusing on immune intervention.
Prof Chu explained the creation of a study using a 0.05% concentration of FP in a DMS base compared to compared to FP in conventional bases such as propylene glycol, sorbitan sesquioleate, wax, paraffin etc.
he explained the reason DMS was chosen was that the goal was to make the structure and composition resemble the natural skin barrier. The study was to determine the efficacy of the FP when in a more physiological carrier.
The study is to be over a four week period for each subject, with clinical evaluations in conjunction with measurements of SC hydration and TEWL.
Prof Chu explained the study was ongoing, with the results and conclusions to be presented at the next I.A.C. Symposium.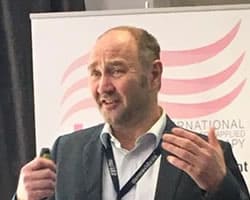 Following our delicious lunch, (Thank you to the Hyatt team) we took our places for the afternoon session, with Prof Burkhard Kleuser, PhD, our first presenter. Prof Kleuser is from the University of Potsdam, Germany.
Prof Kleuser's presentation was on the subject of Sphingolipids and their influence on skin barrier and cornification disorders.
Prof Kleuser began with an introduction to Sphingolipids, explaining their structure and chemistry and how they are essential structural components of the skin. From this we learned that ceramides play an important role in the formation of Sphingolipids, and consequently ceramides are essential for epidermal barrier function.
We were treated to a detailed and highly visual explanation of the different ceramides and Sphingolipids, and also that Sphingolipid derivatives such as ceramides and sphingosine-1-phosphate (S1P) influence many aspects of the skin including keratinocytes and dendritic cells of the immune system.
Prof Kleuser explained the relationship between Sphingolipid disfunction and skin disorders such as atopic dermatitis, revealing the mechanisms of the disfunction.
He concluded by explaining that therapeutic approaches based on topical administration or systemic delivery of sphingolipid-metabolites or sphingomimetic molecules may be beneficial in avoiding pathophysiological conditions of the skin.
Prof Kleuser's presentation was both spirited and informative, and a brisk start to the afternoon's proceedings.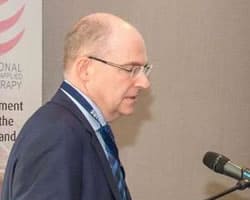 Next was Dr Martin Weisser, PhD, a cosmetic chemist from local Manufacturer KOKO GmbH.
Dr Weisser's subject was safety reports; specifically the requirements for corneotherapeutic products.
First, we learned about the legislation that required cosmetics manufacturers in Europe to implement a comprehensive safety assessment to ensure that the product is safe for human use before it was placed on the market.
Dr Weisser then explained the structure, requirements and parameters of the safety report required for each product.
We discovered that there are many complex equations and formulas used in conjunction with testing procedures to determine the safety. We learned that many factors are taken into consideration including toxicological safety factors, physicochemical stability, microbiological safety, metabolic degradation, percutaneous/dermal absorption routes and much more.
We also heard about the calculations used to determine such parameters as Systemic Exposure Dose (SED), Margin of Safety (Mos), No Observed Adverse Effect Level (NOAEL)
Dr Weisser's presentation left us confident that the reputation of true corneotherapeautic products can be assured when they are manufactured and tested to the same standards as pharmaceutical products.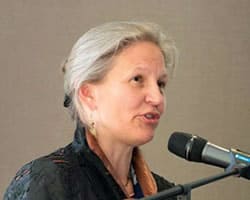 Our final presenter for the day was Dr Imke König, MD, the spa director of the Luxury Spa Schloss Elmau, Germany. Dr König's presentation was a subject close to the heart of many of the I.A.C's membership; Transparency beyond marketing and advertising claims, and the understanding of the INCI lists of cosmetic ingredients.
Dr König began with introducing us to the LOHAS consumer,(Lifestyles of Health and Sustainability) and their needs that makes the role of the cosmetics/skin care seller or skin treatment service provider more meticulous. This is because they seek far more information about the skin care products they use and the treatments they undertake than normal consumers.
We learned that in order to satisfy this growing sector of the market that we need to understand more toughly the INCI ingredients in skin care and cosmetic products, particularly when there is so much misinformation from manufacturers and marketers.
Dr König explained the various regulations in different parts of the world and consequently the dilemma of skin care products containing ingredients banned in other parts of the world. She explained the various approaches people use to try to obtain correct and valuable information about the INCI list. We learned about indentifying ingredients such as paraffin's, silicones alcohols, checking colorants, allergens, sensitizers, preservatives, surfactants, chelating agents etc.
Dr König's presentation was common ground for many of the attendees and was well received, with many questions from both attendees and other presenters.
After a short break, the I.A.C's  general Assembly commenced. A full report including the minutes will be available to members next month.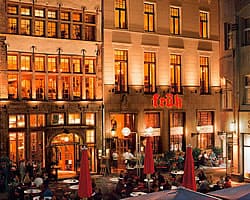 The first day of the program concluded at 6.30pm with the group taking advantage of the pleasant spring evening to take a short walk across the landmark Hohenzollernbrücke bridge for a dinner in the spacious cellars of the iconic Früh am Dom restaurant, home of the famous Kölsch beer.
 Day Two 
Day two of the Symposium began with a brief address and review of the proceedings so far by I.A.C. Secretary, Margaret Walsh-Shearer.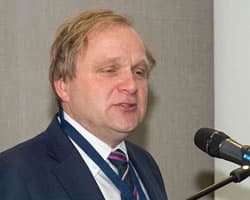 Our first speaker for the day was Prof Markus Böhm, MD, from the department of dermatology, University of Münster, Germany. Dr Böhm's presentation was on the subject of Vitiligo, a condition of significance for the skin treatment therapist memberhip who encounter this condition in their practices.
Dr Böhm commenced with a overview of the types of vitiligo, the prognosis and pathogenesis of the condition, briefly exploring several current hypotheses that have disclosed the presence of mutations in several key regulator genes controlling immune functions in non-segmental vitiligo.
Dr Böhm explained that with current knowledge, the cause of vitiligo is best summarized as a convergence ("convergence theory") of several pathobiologic key events (most of which are outlined above) that make melanocytes vulnerable to cellular stress (e. g. induced by biochemical, metabolic, neuroendocrine abnormalities).
As a consequence an immune attack is mounted that will lead to destruction of epidermal melanocytes resulting in various degrees of depigmentation depending on the activity of the disease.
Dr Böhm went on to discuss the various treatments currently employed, but made special note of treatments employing UVB at 308nm with topical corticosteroids or calcineurin inhibitors, and UVB at 311nm in conjunction with Afamelanotide, a superpotent melanocortin peptide. A fascinating and informative start to the morning.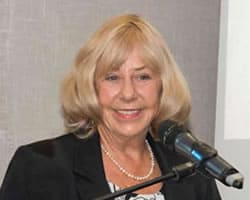 Following Prof Böhm was our Madame Chair of the I.A.C, Florence Barrett Hill, an independent dermal science educator from New Zealand. Ms Barrett-Hill's presentation was on another topic of importance to the membership- Rosacea.
The presentation began with an overview of the different types of Rosacea and their physical appearance, noting that was perhaps one of the most misdiagnosed dermotoses of adults.
We learned that rosacea can be safely classified as skin barrier disorder, with the now understood defence systems of the innate immune system being triggered by a variety of agents.
Ms Barrett-Hill walked us through the leading causes, the biophysical events occurring and explaining how each plays a role in the development of the condition. We learned about the various receptors, enzymes, peptides and hormones responsible for the development of the condition.
She then expanded on the four different sub-types of rosacea and variants. Ms Barrett-Hill concluded with best practice approaches to treatment pathways, with specific emphasis on maintaining client/patient compliance to their personal role in the treatment program.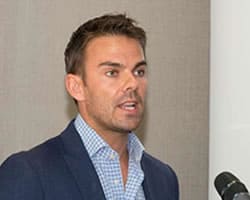 After a short refreshment break, Dr Matthias Aust, a plastic and cosmetic surgery specialist from Bad Wörishofen, Germany, who delivered his presentation on the subject of dermal needling. This was another subject of great interest to the skin therapist sector of the membership.
Dr Aust began with be explaining to the members that as the demand for less invasive, highly effective cosmetic procedures grows, plastic surgeons must explore and develop new treatment options; with particular emphasis of the reduction of scar formation.
We learned that transforming growth factors (TGF) play a major role in the formation of scars, with TGF -β appearing to promote minimal scarring during the regeneration and wound healing process.Dr Aust then went on to explain that percutaneous collagen induction (dermal needling)is a modality that brings us closer to this ideal of regeneration of the skin because of the expression of the TGF -β as part of the process.
Dr Aust detailed the best practice procedure and equipment , post operative care, and advantages/disadvantages.
He then showed us many examples of various treatments across different areas of the body, discussing results, limitations and complications. Dr Aust then explained the rationale for the adjunct application of vitamins A and C topically post needling; concluding that since the introduction of percutaneous collagen induction therapy almost 20 years ago, it has evolved into a simple and fast method for safely treating wrinkles and scars as opposed to ablative laser treatments. There were many questions from the membership and fellow presenters, and much post event discussion on this topic.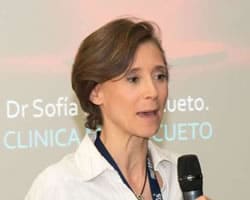 Next up was Dr Sofía Ruiz del Cueto, from Madrid, Spain. Dr Ruiz del Cueto, who is a dermatologist and plastic & aesthetic surgeon was speaking about how corneotherapy can help as an adjunct to fractional laser treatments.
Dr Ruiz del Cueto began with a brief overview of fractional ablative lasers and the difference with conventional types. She then outlined the key factor in the good outcome is the skin's recovery and good wound healing processes, reducing side effects such as PIH and downtime.
Dr Ruiz del Cueto noted in her experience that corneotherapy had proven to be an essential tool in her clinics practices as a follow up protocol, as they sought solutions to reduce the TEWL post treatment.
Dr Ruiz del Cueto commented that during the last 12 months the clinic had introduced phosphatidylcholine based cosmetics as a laser follow up protocol , resulting in a 35% reduction in down time and patient compliance and satisfaction increased by 60%.
There were many questions from the members, and a reinforcement of the value of corneotherapeutic approaches as adjunct therapies both pre and post ablative and non ablative methodologies.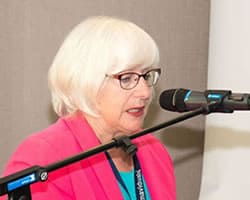 Our final speaker for the symposium was Alexandra J. Zani, an independent educator and author from the United States. Ms Zani's topic was a review on studies where adjuvant corneotherapy has been used in treatments and interventions from lasers to oncolgy aesthetics.
Ms Zani began with a brief explanation of the term adjuvant refers to in relation to medical and surgical procedures, and that is has been shown to be highly beneficial when administered for pre and post skin care such as when combined within the context of plastic or reconstructive surgery.
Ms Zani then outlined the various procedures typically adapted to each specific intervention, including Pre-post surgery, wound care, and post pigmentation treatments. She then shared some thought-provoking observations concerning trends that promote a greater perspective when it comes to aging, health and longevity, and a global paradigm shift when it comes to wellness and embracing a more preventative approach to treating skin conditions and health issues.
Ms Zani concluded by briefly speaking about the growing change moving from conventional and traditional care of health into a more proactive philosophy of integrative medicine and philosophies of prevention; a shift in which corneotherapy can play a role.

The symposium concluded with thanks and closing statements from madame Chair Florence Barrett-Hill and vice chair, Hans Lautenschläger; in which the announcement that the 5th symposium on corneotherapy would be held in Auckland, New Zealand in January 2018.
Special thanks go to our sponsors; (below right) Pastiche Training, Metrodermo SL, KOKO Kosmetikvertrieb GmbH & Co, Dermal Sytems inc, ID skin care Ltd, High Grade Pharmeceutical Ltd, VIP Koreana, DMS International Ltd, and Megavalis UAB for their financial and material support. Without our sponsors, these events would not be possible.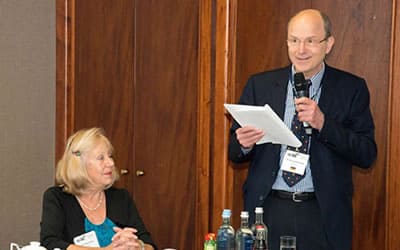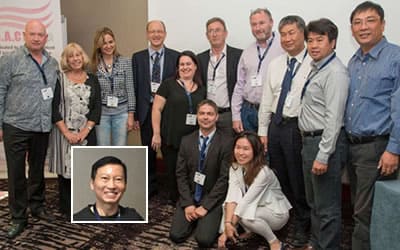 The post event social gathering was a leisurely boat ride down the Rhine to the historic town of Zons, where we enjoyed a guided tour before boarding our boat back to Cologne where we indulged in a sumptuous buffet on our way.