Dermal Systems Inc is a Canadian company who are Corneotherapy advocates and practitioners with a passion for excellence. They have sourced exceptional products and services to serve their clientele of skin care professionals. The foundation of the enterprise is that of success through education, and have aligned themselves with industry leaders in every field of professional skin treatment practice; from Corneotherapy products, skin diagnostic devices, in clinic systems and educational resources.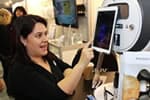 The team at Dermal systems are passionate about skin, its, structure, function and well-being; developing Corneotherapeutic interventions for many skin conditions . In addition to serving the Canadian market, Dermal systems export their Corneotherapy expertise in the form of seminars and e-learning programs in the United States.
Company CEO, Rene Serbon serves on the I.A.C educational board, and has developed many Corneotherapy centric training programs that she shares with I.A.C. members.